November 2016
Leadership Team Update
The Strengthening Families Leadership Team meeting was held on August 17, 2016. A brief report follows.
The meeting started with Reports from the Ground, a recurring segment which focuses on Strengthening Families Protective Factors implementation, featuring Leslie Reicher from Allegheny County Department of Human Services. Reicher discussed the work of the National Family Support Network which was founded in 2011. The main focus of the network has focused on the development of standards of quality for family strengthening and support. These standards are the first and only standards in the country to integrate and operationalize the principles of family support practice with the Strengthening Families framework and its research-based evidence-informed five protective factors. In Pennsylvania, family centers have voluntarily adopted these standards. Allegheny County has instructors who can provide certification courses on the standards for staff of family centers. They hope to continue to grow the cadre of instructors. The National Family Support Network continues to grow and now employs an executive director and training director.

The Strengthening Families Leadership Team has three subcommittees: Evaluation and Planning; Marketing; and Professional Development. All leadership team members are welcome and encouraged to join a subcommittee if their work schedule and time permits. The Evaluation and Planning Committee continues to work on an evaluation plan. The Marketing committee reminded the group to watch for the next newsletter which features an article on the National Family Support Network. The Professional Development committee will reconvene in the fall. An update was given regarding the process to train six instructors to teach local teams to conduct the Be Strong Parent Café Model. Five teams have been trained and are currently completing their series of three cafés. Twelve more teams will be trained during upcoming institutes. The remainder of the meeting was used to watch the final two episodes of the Raising of America documentary series: Wounded Places and DNA is Not Destiny.
The next meeting is scheduled for November 16, 2016 at the Center for Schools and Communities.

Policy Spotlight: Ensuring a Plan of Safe Care for Pennsylvania Infants
The article below was written by Cathleen Palm of the Center for Children's Justice.
In December 2015, Reuters partnered with NBC News on an investigative series: Helpless and Hooked: The most vulnerable victims of America's opioid epidemic. Spotlighted in the series was six-week-old Brayden Cummings, who was born physically dependent on opioids in the Lehigh Valley. Reuters identified Brayden and more than 100 other infants who died preventable deaths. The journalists wrote that the infants didn't die due to being born drug-dependent. Instead "What sealed their fates was being sent home to families ill-equipped to care for them."
Reuters scrutinized how states were complying with a 2003 federal law spearheaded by retired Pennsylvania Congressman James Greenwood. Greenwood amended the Child Abuse Prevention and Treatment Act (CAPTA) in order to improve outcomes for infants affected by prenatal drug exposure. In 2010 CAPTA was amended to also include Fetal Alcohol Spectrum Disorders (FASD). CAPTA requires states to have policies requiring that when a baby is born affected by drugs or FASD, health care providers notify child welfare. This call to child welfare is not a report of suspected child abuse; rather it is intended to trigger the inter-disciplinary design of a plan of safe care when the infant is discharged from the hospital.
Despite Brayden being born physically dependent on drugs and spending weeks in the neonatal intensive care unit, he was discharged from the hospital with no plan of safe care. He was not alone. Reuters found that rarely was federal law being followed.
In response to the Reuters' findings, Pennsylvania United States Senator Bob Casey, Jr. and Congressman Lou Barletta have worked to improve how local communities and states respond to pregnant women with a substance use disorder and their infants. Both legislators promote the need for a public health response to the growing crisis of infants born dependent on opioids.
This summer President Obama signed the Comprehensive Addiction and Recovery Act, which included legislation crafted by Casey and Barletta – the Infant Plan of Safe Care Improvement Act. Pennsylvania must now work, with intention and in partnership with diverse stakeholders, to improve the identification of substance-exposed infants, the design of inter-disciplinary and two-generational plans of safe care, and to track the number of affected infants as well as to what degree these infants and their families are connected to critical services (e.g., drug treatment, evidence-based home visiting, early intervention, medical homes).
This change in federal law is an invitation for Pennsylvania to systematically foster prevention, to reject a punitive response to families battling the chronic health condition of addiction, and to promote child safety by strengthening families.

Practice Spotlight: PARENTS Acrostic
The Alliance Parent Partnership Council (ANPPC) is a parent-led initiative created by the National Alliance of Children's Trust and Prevention Funds. The ANPPC "is committed to serving as a national model for effectively partnering with parents."1 This dynamic group has created the series need2know. The series consists of resources to support community-based organizations to build parent leadership and relationships as well as magnify the voices of parents in their programs.
The first tool in the need2know series is the PARENTS Acrostic. Each letter of the word parents represents a different action the organization can take to engage in meaningful partnerships with them. The tool includes suggestions about how it can be used with parent groups and in conversations with parents and professionals.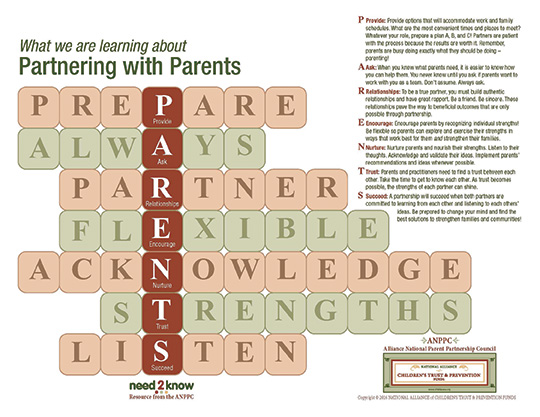 Resource
1 National Alliance of Children's Trust and Prevention Funds (2016). Effective partnerships with parents: Alliance National Parent Partnership Council. Retrieved from: ctfalliance.org/initiative_parents-3.htm

Event Spotlight: Pennsylvania Head Start Association Conference
Call for Presenters
2017 Annual PHSA Conference
Penn Stater Conference Center; State College, PA
April 19-20, 2017
Share your expertise in one of the following content areas: health, nutrition and/or safety; early head start; education; disabilities and/or inclusion; mental health; diversity; leadership development; parent, family and community engagement.

Pennsylvania's Mission:
The Strengthening Families Leadership Team works to sustain and weave the Five Protective Factors, which are social and emotional competence of children, knowledge of parenting and child development, social connections, concrete support in times of need and parental resilience, into policies, program and practice across child and family service systems.
Relationships • Strong Families • Respect